What is the cost of scalp micropigmentation?
The number one question we get during consultations and on social media is "how much does scalp micropigmentation cost?" Most people are wondering whether or not they can afford the SMP treatment. Our answer might surprise you.
SMP is, by its nature, a comparatively affordable hair loss solution. Scalp micropigmentation is more cost effective than what you might pay for a hair transplant surgery, hair system, or hair loss medications, which can mount up considerably over time.
So let's discuss the factors that go into determining your scalp micropigmentation treatment cost.
HAIR LOSS LEVEL
Your hair loss level is the most important factor in understanding your smp treatment costs. Using the Norwood hair loss scale, we can determine your hair loss level and price range. Now I'm sure you are thinking, what in the world is a Norwood?!?! When determining your hair loss, it's important to understand how far your hair has progressed. The Norwood scale is a visual representation to help us identify your hair loss stage.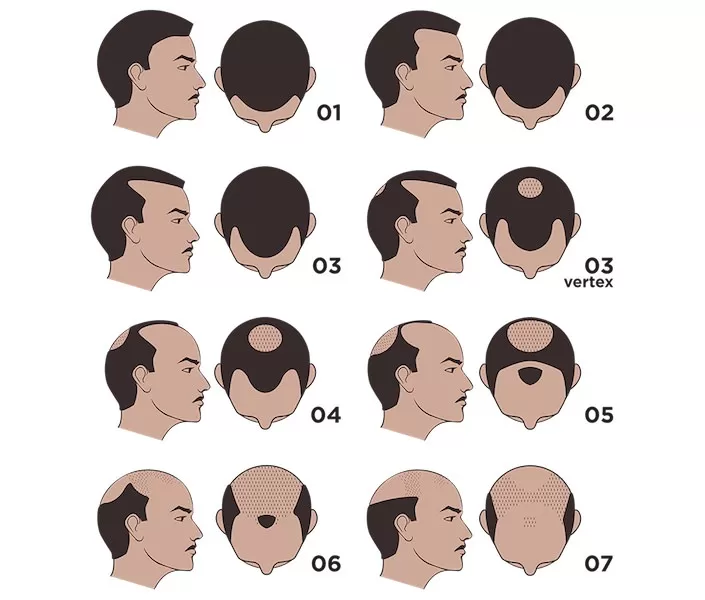 Where do you fall on the scale?
EXPERIENCE & QUALITY OF PRACTITIONER / COMPANY
You've heard the expression "you get what you pay for" well that is true for scalp micropigmentation as well. While cost shouldn't vary drastically from one provider to the next, typically you can expect those practitioners that have years of experience and consistent, high-quality results to charge a bit more than newer practitioners trying to build their portfolio. When choosing a scalp micropigmentation provider, make sure you see a wide range of clients they have treated.
SPECIAL TREATMENT REQUIREMENTS
Other factors that can impact price are special requests or alterations you make that add additional sessions or hours of work. For example, if you decide after your initial treatments that you would like to lower or modify a hairline, you may expect to pay an additional fee for the artist to make that change.
Also, many Scalp Micro USA clients come to us with hair transplant scars that need to be camouflaged, or alopecia. These scenarios add an extra layer of complexity to your procedure and could require more or less time depending on the treatment.
REGION
It is safe to say that costs for scalp micro pigmentation do vary depending on where you are in the world. Even down to the city. Typically, cities with higher smp costs are the ones you would expect: New York, Chicago, Los Angeles, and Miami. Alternatively, smaller cities may charge a bit less. At Scalp Micro USA, our costs are consistent across cities but you may find other clinics charging more or less depending on how populated the area.
THE NUMBERS
Now you know the factors that go into getting a scalp micropigmentation quote, but you probably want your smp price. Typically, the treatment will cost $2,000 - $4,500 depending on the factors listed above. In order to provide an accurate price quote, our team will need to see pictures of your hair loss to determine your number on the Norwood scale.
WHY CHOOSE SCALP MICRO USA?
As the leading SMP provider in the United States, we have unparalleled expertise and experience and have handled just about every treatment requirement you can imagine. From routine procedures to some very challenging cases, we've seen it all and have an exemplary track record and vast portfolio to back it up.
In order to get your personalized quote please contact our team for an informal discussion around your treatment goals. Consultations can be face to face, by phone or email or through a video call. During this process we can confirm the cost of your scalp micropigmentation treatment and answer any questions about the service we offer, or the treatment process.
We look forward to hearing from you soon!
Leave a comment