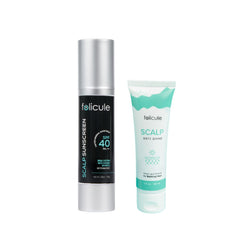 Folicule
Sunscreen & Anti-Shine Bundle
Taking care of your scalp 
becomes a whole lot more efficient and elevated with our Sunscreen & Anti-Shine Bundle. Featuring our popular aftercare products, this bundle is perfect for those who want to protect their scalp from the sun and eliminate shine on their scalp. 
How to Use: Generously a
pply sunscreen to scalp. After sunscreen has dried, apply anti-shine as needed throughout the day.