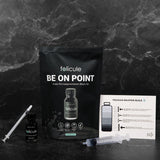 Folicule
Scalp Micropigmentation Black Ink Kit
Go-to product for SMP artists looking to provide the most natural scalp micropigmentation results. Our experts thoughtfully crafted professional quality SMP pigment with carefully sourced materials and thorough testing. Folicule ink has NOW been used in over 5,000 SMP sessions! 

Good to Know: This product is ONLY for certified and experienced Permanent Makeup (PMU) professionals and is only to be used for the scalp micropigmentation treatment. This product is NOT to be used for cosmetic use by customers. Each order will include a dilution card, 1 ml, and 10 ml syringe for accurate measurement. For full MSDS, please click here: https://bit.ly/3nekgg3

How to Use: This product should ONLY be used by practitioners who are certified in scalp micro pigmentation. For more information about our Folicule pigment dilution method, click HERE

What's Included: One 15 ml Black ink + One 10 ml syringe + One 1 ml syringe + One black ink dilution chart

Lasting Impressions
Rated #1 Scalp Micropigmentation ink. Level up your game with consistency in every dot.
Natural ingredients to reduce inflammation and post-treatment redness
Longest color and impression retention
For more information about our Folicule pigment dilution method click below
WATCH NOW
Be on Point.
Your clients deserve the most consistent pigment in the industry. Thoroughly tested by scalp micropigmentation experts to ensure consistency and color retention in every drop.
The Go-To Pigment for Elite Scalp Micropigmentation Artists
Folicule ink has been used on over 5,000 successful SMP treatments
Quality Assurance Tested
LEARN MORE